Fantasy Wardrobe: Fabrics
We often call clothes silk when they are satin, velvet where they are velveteen or we have no clue what we're on about. So today let's look at fabrics.
Laying down the law
Many renaissance/mediaeval societies governed over who could wear what. By adding these laws you had a layer of depth to your world.
Women and men could only be dressed n clothes benefiting their position
Female servants or their daughters could not wear veils costing more than twelve pence
Knightly families could not wear cloth of gold or sable fur or velvets
The wife or daughter of a labourer were not to wear clothes beyond a certain price or a girdle garnished with silver
Cloth of gold and purple silk only worn by the royal family. This goes for ermine.
The importation of silk and lace foreigners was prohibited when the kingdom produced those textiles.
Peasant Clothing (Beggars to Merchant classes)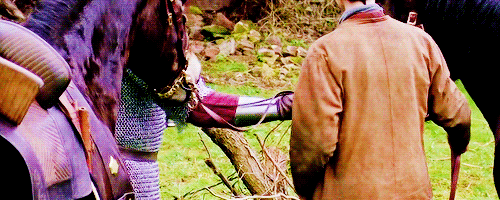 Wool: This was the staple of much of the clothes owned by peasants. It was in supply and it wasn't as costly as most fabrics when undyed. It was also warm.
Linen: Forget about softness. Peasant linen was made of coarser weaves and flax. It was heavier than noble linen.
Cotton: A lightweight fabric used in hotter climates. It was softer than the linen and airier.
Fustian: heavy cloth woven from cotton, for menswear.
Leather: Leather was used for boots and shoes rather than killer jackets.
Nobility & Royalty
Cloth of Gold: Cloth made from woven threads of gold (very expensive)
Cloth of silver: cloth made from woven silver strands (very expensive)
Samite: a rich silk fabric woven with gold and silver threads
Tulle: A netting sort of material
Brocade: rich silk fabric with raised patterns sewn on it.
Cambresine: fine, lightweight linen
Cambric: thin white cotton or linen
Cypress: gauze made of cotton or silk
Damask: like brocade but the patterns are flat
Delaine : light wool/mixed wool and cotton
Lawn: sheer plain-woven cotton or linen
Sarsenet: fine and soft silk
Sateen: glossy cotton or wool
Satin: closely woven silk, shiny
Taffeta: Thickly woven silk
Velvet : piled fabric of silk, cotton or synthetic material
Velvetine: cotton with silk pile
Saxony: fine, delicate woollen fabric
Alençon Lace: intricate floral lace with three-dimensional corded detail sewn onto a fine tulle backing
Chantilly Lace: lightest of lace
Charmeuse: smooth, flowing, silk, cotton,
Chiffon: sheer and lightweight fabric
Crepe de Chine: thicker, lightly textured silk
Dupioni: crisp lusturous silk
Organza: sheer and lightweight fabric of very fine weave silk
Georgette: sheer fabric of silk
Guipure Lace: heavier lace
Designs
Embroidery: Patterns sewn on the fabric by thread
Appliqué: decorative fabric, often lace or floral motifs, sewn onto the main material
Embellishment: details such as beads, crystals, sequins, pearls
Trim: a line of material or fur that finishes off a hem or cuff.
Piping: a cord lining the fabric creating a ribbed look.
Colours
Here are the colours that you will catch your people wearing. Keep in mind that dyes had to be sourced and could be very expensive.
Peasant: brown, red or gray.
Nobility: Gold, silver, crimson or scarlet, deep indigo blue, violet colors and even deep black and pure white colors
Royalty: Purple
Furs
Mink: Soft and lightweight, silkly and glossy furs
Fox: Long, lustrous, colourful and easy to dye.
Ermine: White fur streaked with black (ONLY FOR ROYALTY)
Sable: long, luxurious, dense but light.
Wolf: thick, tough, warm but has a bad smell
Vair: fur from a red squirrel really only used for trimming.