Paperwork
Bucky Barnes x Reader
Summary: In which Detective Right-All-The-Time confesses his feelings for Detective Terrible-Detective 
Word Count: 5604
Warnings: pure fluff y'all will get a toothache from all the sweetness 
Author's Note: soooo i know i'd written a detc!bucky fic before but it was so vague and then i thought of this and i loved this idea and i had to write it down bc i knew if i didn't then i'd probs forget it lol. this isn't exactly a copy of any of the episodes i've just taken marvel characters and put them in b99 au with a lot of references here and there 
i hope you enjoy reading! as always feedback is greatly appreciated! :)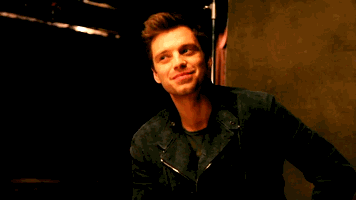 "Don't they have anything to do other than that?" Natasha, your fellow detective comments from her desk. Her eyes never left the computer screen and neither did yours, but you knew exactly what and about whom she was talking about.
Across the bullpen, two of your co-workers were playing a game of who can stuff the most tater tots in their mouths. Bucky Barnes and Scott Lang stood apart from each other in the kitchen area, aiming the food item at the other's mouth.
Steve was sitting on Scott's desk since it was closer to the kitchen - so that he could judge the challenge. The former two had come up with a silly set of rules and had the blonde detective to be the judge and place the 'verdict' of their ridiculous game.
"I know, right? And to think those two idiots dragged Steve into this too. They will never spare a chance to corrupt him." You said in reply. "If they're all out of work then they're more than welcome to help me." You joke, typing away on your computer.