Companion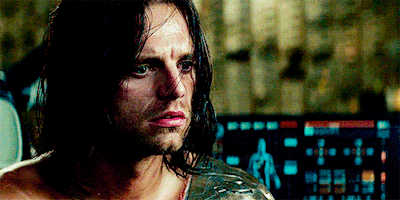 ws!bucky x reader

In which Y/N gets captured to be the Winter Soldiers pet

Warnings: kidnapping, torture, swearing, angst and fluff

words: 4.5K
---
He had noticed her in the 60's the first time. She had been at the Kennedy parade, smiling and squaring with excitement as JFK, and his wife Jackie rode by, waving and smiling. Her hair was in a tight, and high ponytail, slicked back and long as was the style of the time, and the jewel she wore in it glinted in his eye as his sniper rifle passed over her. He had seen the way her face crumpled into a horrified scream as he hit his mark expertly, and he had seen the way she looked so pretty as she cried into her friend's shoulders, mascara dripping down her face, marking it with her grief. His caretaker at the time noticed his gaze, and muttering quickly in Russian, hit the comm on his ear and proposed a plan to his superiors without the Assets knowledge.
The Asset hadn't known how they got the right woman, or why she was here, but he assumed that it was a simple way to keep him coming back to base— a reason not to run. If he ran, she would never be able to again.
He saw her the second time huddled in the corner of his room, the green-tinted fluorescent lights making every blemish and blotch on her skin horribly apparent. Her dress, similar to the some he had seen her in the other day, was torn and dirt stained. Her fingertips were bleeding, and her nails were torn and despite not even being in the same vicinity as her for more than five seconds, found his chest swelling with pride at her will to fight. Her eyes grew wide in fear as she noticed him— his hulking stature and muzzle and shaggy hair that was a little too heavy with grease— and immediately, he tried to make himself smaller. He fell to one knee and slouched his back and held out two hands in surrender— a sign of submission he had learned when the torture his caretakers went too far. Her fear lessened somewhat, but she refused to leave the corner of the room for the next few days— going so far as to sleep and defecating in that spot. Her fear paralyzed her, and Bucky woke every day on his too-springy mattress and hoped to find her clean and in a chair or something other than that horrid corner.
They took her for the first time that day, and he cursed his hearing abilities, for he could hear her screaming in pain— from what, he never wanted to know.
He found out eventually, as they shoved her back in wearing what looked like cheap underwear and a cargo shirt he wore under his uniform. Her skin looked like it had been pressure washed, and from the small dots hidden in the crook of her arm, he hoped they had taken blood from her rather than injected her with something.
"что они сделали с тобой, милая?" (what have they done to you, sweet thing?). His voice was raspy as he neared her. His movements seemed to be too quick for her liking as she backed away and pressed herself to the bars of the door she was shoved through seconds before.