Bogotá
¡Hola muchachos!
I'm back from my trip to Bogotá, the capital of Colombia, of past tuesday until friday. AND IT'S BEEN MUY CHEVERE!
Again: chevere [tjeev'eree] = cool. To all the people who are not from Colombia: if there's one Colombian word you should remember from this blog, it should be that one :P
To talk a bit about my experience there, I started of with a picture because there are several things I want to say with it:
1) Familia de mi novia: As soon as I arrived at the airport, the mom and sister of my girlfriend (@mafandravv <3) were awaiting me with open arms. Since they were on holidays in Bogotá in July, I couldn't help myself paying them a visit - and boy, am I glad I did! It was great to see them back and they mainly suggested some stuff we could visit. They're a big part of the reason that I like Bogotá a lot and definitely want to pay it another visit!
2) Bogotá is BIG: The capital harbours over 8 million people and stretches - as far as the eye can see on the picture - over the valley between the mountains over a vast area. Yes, vast, for the Belgians out there, let me give you an idea: the city is more than half the size of whole Oost-Vlaanderen. Truly, the sight of the city made me realize that we're so small, as a country but also just as a person.
3) Lots and lots to see and visit!
The picture was taken at the mountain Monserrate, where there is a little town on top which offers a view all over Bogotá at an altitude of 3152 m - beat that Belgium, beat that Medellín! :P It is possible to ascend by a cablelift, or if you feel in a pretty good shape it's also possible to walk the 6000 steps up to the top :) The latter one is done a lot during Christian celebrations such as Christmas or Easter because there is a magnificent church at the top where masses are being held.
Apart from paying a visit to Monserrate, I also went to Museo del Oro…
…Museo de Botero…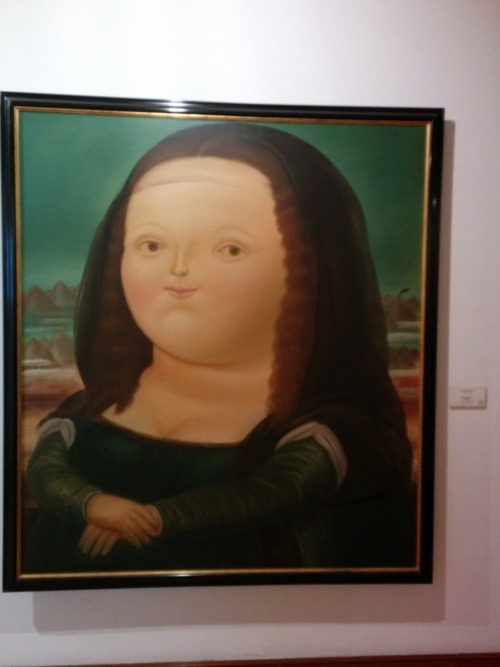 …Plaza Bolívar…
…and saw much more while walking!
Perhaps now a comparison with Medellín is in order - I think some people were excited for this section :P
First, I've got to admit that I can appreciate the nice warm climate in Medellín a lot. However, the colder climate in Bogotá is much more familiar to me.
I have little idea if there is some link with the climate, but in general the people in Bogotá are a bit more reserved than the ones in Medellín. For example, conversations at eachother's doors is something I barely encountered in Bogotá, but was fairly common in Medellín. Nevertheless, the people there are just as much friendly and helpful. Obviously, to say every single inhabitant is like that would be a wrong statement. Indeed, during my stay in Bogotá, a couple attempted (unsuccesfully) to steal from us while we were walking down the streets. But in my opinion it's something that could happen in every capital. Street criminality is still a major issue here, but it's improving at this moment and I'm confident it'll find its way to continue to do so.
Not just the majority of the people are pleasant, it's also a joy to give a look at them. In Bogotá there's a tremendous diversity in people: Blancos, Mestizos, Negros, Indíginas, Gitanos,… Immigration is an important aspect in the demography of Bogotá, national as well as international. Immigrants are usually hoping for a better life when moving to the capital, and I suppose it's unnecessary to say that that's an utopia which every capital has to deal with, the one more than the other. Coinciding with this, just as in Medellín, there are differences between the neighbourhoods, whereby in Bogotá the poorer people live in the South, and the richer ones in the North.
Considering the transport in the city, I've also noticed a few differences. The first and probably most noticeable of all is: order. There's been thought about the traffic infrastructure, what is less the case in Medellín. Also, because the most important economic activity happens in the capital and there are more people, there are a lot more cars. This problem has recently been partially resolved by introducing an extra mode of public transport: el TransMilenio, big autobusses that have their own roads in the city.
A metro, whereby Medellín is the only city who has one so far, is still an ongoing project in Bogotá that would probably end in 2015.
Finally, there's one more thing that I'd like to quote and that is food. I haven't spoken of food yet, but I'm planning to dedicate a full post to that in the future. So for the foreign-food-lovers out there, no need to worry, you'll get your piece of the pie as well ;) But one very typical dish for Bogotá as breakfast is called "Tamal". It's rice and maize with chicken, pieces of meat and vegetables (carrot, peas,…), all of it prepared in leaves of plantain, muy rico! :D
To summarize my experience: In Bogotá there's an immense treasure of places to encounter, events to attend,… simply a city that will always find a way to surprise you. Therefore I'm already looking forward to reveal some more of what's hidden under its veil during my next visit :D
Entonces, I'll be ending my post here - I think I also broke my personal record in longest post :P This Monday I'll be leaving for my first field excursion for my thesis research. Obviously, we're not here for just making tourism but also to get some stuff done. So I'll be explaining a bit more about it - hopefully - tomorrow.
Hasta pronto muchachos!