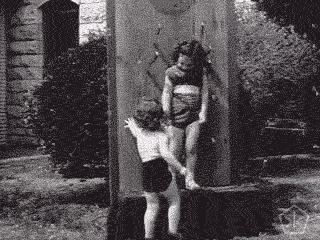 EXCERPTS >|< Louella Gallagher, Knife-Thrower (1950)
A series of gif excerpted from a short movie of 1950, in which the knife thrower Louella Gallagher performs with her two daughters: Connie Ann of 5 years and Colleena Sue 2 and ½. The three Gallagher are showing in Texas and the news appears in a newsreel of the time.
If still alive, today Connie and Sue should have approximately 60 years. It would be really interesting to hear their point of view on their childhood.
We invite you to watch the full video HERE
-
Una serie di gif estratte da un breve filmato del 1950, nel quale la lanciatrice di coltelli Louella Gallagher si esibisce con le due figlie: Connie Ann di 5 anni e Colleena Sue di 2 e mezzo. Le tre Gallagher si stanno esibendo in Texas e la notizia appare in un cinegiornale dell'epoca.
Se ancora vive, oggi Connie and Sue dovrebbero avere all'incirca 60 anni. Sarebbe davvero interessante conoscere il loro punto di vista sulla loro infanzia.

Vi invitiamo a vedere il video originale QUI

---
EXCERPTS by OKKULT MOTION PICTURES: a collection of gifs excerpted from open source/unknown/rare/controversial moving images. A digital humanities project for the diffusion of open knowledge.
>|<