Azula
It constantly upsets me whenever I see people say that Azula doesn't deserve any sympathy, that she was a monster, she deserved what was coming for her, she abused people (to a certain extent she did to Mai and Ty Lee)*, a playing victim, doesn't deserve any redemption arc etc…
And so, i've decided to write this so people can understand her character better.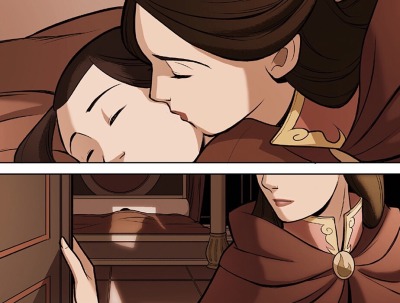 In the comics, it became clear that Azula's accusation of their mother (Ursa) liking loving Zuko more than her, was indeed true. Never once did we see Ursa actually alone with Azula unless she was reprimanding her. Ursa was always just with Zuko. It was only once did we see Ursa actually with Azula (albeit Zuko was there too), and even then Ursa was neglecting Azula and just paying her full attention to Zuko. You can say Ursa loved Azula, sure, but the fact is that Azula never felt she was loved by her mother. Why would she? Ursa never praised her when she actually did something praiseworthy, or even when she behaved better than Zuko.
A child, especially a child as perceptive as Azula was, could've only reached the conclusion that she was never loved if there wasn't any evidence to prove her wrong. Compare Ursa's goodbye between her children. She kisses them both, but she only wakes up Zuko to tell him she loves him. For Azula, she has no knowledge of Ursa even coming to her room.
Now for Ozai. According to Zuko, Ozai favored Azula over him because she was a prodigy, which was true, but notice how even in flashbacks or in the comics, Ozai was not seen spending time with Azula like how Ursa was with Zuko. Ozai only favored Azula for her talent, and that was it. As a child, Azula only received praise from her father when she did something praiseworthy and her ideals matched his. Was Ozai truly spending time with his daughter? No. Did he truly love her? No.
In contrast to Ozai's treatment of Azula, Ursa's was the complete opposite. Ursa only paid attention to Azula when she did something wrong. To Azula, it was better to be scolded than to be ignored so she did bad things.
People always fail to remember that Azula never had any guidance, unlike Zuko. Ursa was always with Zuko. When she'd reprimand Azula for her actions, she'd never tell her why they were wrong and only send her away. Azula actually questions her mother as to why she couldn't do what she did, but Ursa only tells her that she should treat the flowers with respect. Ursa NEVER explained to Azula what was wrong with what she was doing.
Notice the difference in how Ursa treated her children when they misbehaved. Ursa's first thought for Zuko is to understand her son's reasoning behind his actions while for Azula, her first thought was to only scold her.
Again in this scene, Azula was just asking a simple question but yet again, Ursa scolds her for it and doesn't tell her why it was rude. Azula only understood why it was inappropriate when Zuko interjects and gives her an example. 'Fine but I still think Dad's better' is basically her response to Zuko. Ursa never tried to get Azula to understand why her questions were inappropriate.
Even Iroh was playing favorites with them. It's obvious that Iroh didn't even know Azula enough to know that she wasn't the usual doll loving girl since he gifted her a doll while he gifted Zuko a dagger. Take note that Azula was merely 11 years old when she was left completely alone with Ozai for the next 3 years.
Azula grew up in a militaristic environment surrounded with only her servants and cruel war aged old men. Her friends were rarely there since Ty Lee had run off to the circus and Mai probably didn't even come to the palace that much either since she was closer to Ty Lee.
Azula was completely left alone with Ozai. She was forced to mature and have the mindset of an adult at 11, to forgo her childhood innocence and anything else that may prove to be a weakness in the future. Ozai made sure of that.
So growing up, Azula basically didn't have a mother, father, grandfather or an uncle. There was literally no one to guide her to the light unlike Zuko.
As Azula grew older, Ozai's expectations of her only grew higher. That was how Azula's obsession with perfection began.
'Almost isn't good enough!'
Azula needed to be only perfect. Anything lesser than that was not appreciated by Ozai. Since Zuko was a failure to Ozai, that only meant that he was harsher in perfecting Azula to be the heir he desired. Since Azula was capable of incredible feats as a child, that means his expectations of her was even higher than his was for Zuko. Azula was expected to not only just excel, but to be the finest of all firebenders (second only to him of course).
'My father gave me far more leeway than he ever gave Zuko, but he is not a patient man.'
'This scheme is indeed my master stroke, destined to place me in Father's good graces forever.'
- Azula (Tale of Azula)
From this we can deduce that Azula was not always actually in Ozai's good graces, unlike what Zuko thought. Azula knows the consequences of disappointing and disobeying her father from watching Zuko, and she knows that even she herself isn't exempted from her father's cruelty.
The higher you climb, the harder you fall— this quote perfectly describes Azula demise. Azula was known as a prodigy even as a child so only perfection and brilliance was expected of her. Failure was considered improbable. No one expects her to fail, so if she does, her punishment is twice as worse as it should be.
Take note, Azula actually loved Ozai. He was the only parent who praised her, who understood her worth, who agreed with her ideals even when she was just a child. Ozai approved of Azula. Azula had seen his approval as Love, which was why Azula never betrayed her father and did everything he commanded her to. To Azula, Ozai was the only person who truly loved her and didn't actually fear her. She wasn't going to lose that one and only person who loved her.
Azula was afraid. She was actually afraid of what her father might do to her for speaking out against him. She knows from Zuko's experience of what Ozai was capable of. Her brother had spoken out of turn in the war meeting, disregarding Ozai's opinion in the plan of General Bujing, which then resulted in the Agni Kai between father and son. Ozai had struck Zuko with lightning when Zuko showed defiance and disrespect.
Azula knew she wasn't an exception, and it was her instincts of self-preservation that prevented her from comitting the same mistakes that Zuko did. Zuko was the prime example of what she would be if she wasn't what her father desired. She became what she was so she could survive.
Azula was every bit a victim as Zuko was, and probably even more.