Like Me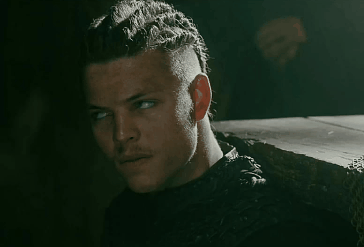 Gif Credit: Not mine.

I'm not sure if it sent this morning bc i have crap WiFi at 3 am for some reason, and it never seems to send my ask or post my reblogs, but I wanted to request (unless you've written it already) Ivar meeting a woman with OI? + Soft!Ivar

A/N: So… yeah. This is just a little short piece that might have another chapter.

---
He was king. As far as he was concerned, he was god too. He stood on top of the leveled off area of his throne, crutch in thick furs with his chalice in a gloved hand. His many earls cluster about– offering coin and gift to their king. He had received several swords, fine and beautiful thralls and expensive cloth sewn by careful hands. Everything was going fantastic until he noticed someone was missing as he commenced his toast.
The earl by the name of Njáll was missing. He owned a rather pressing piece of land. A healthy, beautiful town that overlooked the a cliff with rolling waters. Seemingly incapable of being defeated, Njáll had begun to turn grey. Ivar considered what Earl might come after him.
The rich clang of chalice and horn signals the end of his toast. In place of relaxing, Ivar took down the stairs in search of the old man with long blond hair beginning to lighten. When he finally found the man, it's nothing short of a interrogation.
"Where did you go during the toast?" He asks.