BTS when you sit on their lap and snuggle up to them
---
Jin:
Jin was going to prepare dinner, when you suddenly sat down on his lap. At first, he would be flustered, a little shocked by your sudden action. However, as soon as you snuggled up to him, he would giggle about you, thinking that you were so cute. No dinner today, the two of you would be cuddling.
"What are you actua- Omo, your so cute (Y/N)!"
Taehyung:
Tae would absolutly adore that cute side of yours. He would even ask you to sit on his lap sometimes, pulling you closer. Even though cuddling would always end up with him poking your cheeks or trying to tickle you, so be prepared.

"Come here jagiiii~ I promise I don't pinch your cheeks this time!"
Rapmonster;
He would be so flustered! He would love it, no question, but little actions like that always made him blush. He would probably laugh about himself being like this. He wouldn't be able to concentrate on anything but you, so he'd just stop whatever he was doing, wrapping his arms around you. If he was in the mood, he might kiss you.
"W-WOah jagi, what are you…doing?" (Drops pencil but tries to act cool)
JHope:
He would be so excited, happy like a little child when you sat on his lap. Moments like that totally made his day. After some time, he would get bored though. So get ready for a wrestling competition or him hugging you so tight that you can barely breath.
"(Y/N) ahhhhhhhh, your so cuteu!"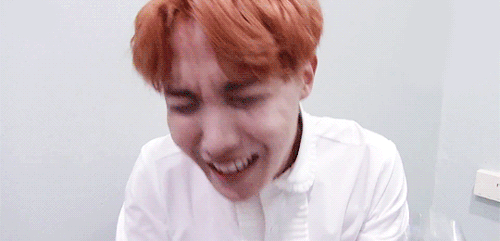 Suga:
Suga seems like the type who really likes cuddling with his s/o. He would literally help you to climb on his lap while he was working on some paper stuff, enjoying the feeling of your warmth. He would play with your hair or rub your back to return the affection.
"Don't ask, I know you want to cuddle. Am I right? Come here."
Jimin:
Jimin would be wondering on what exactly you were trying to do, when you suddenly tried to sit down on his lap. Also he would be laughing at your struggling. He would find it adorable, literally melting when you snuggled up to him and smiling his signature smile. He would really like it, but he woud tease you about it after.
"Jagi, you don't need a chair. You can sit on my lap for dinner,"
Jungkook:
If it was the first time you did something like that, he would be shook. Like, literally even jungshook. His eyes would get big when you snuggled up to him, wondering on how to react. He would slowly hug you back, breathing in your scent. Once he wasn't nervous anymore, he would get more confident and maybe even kiss you, iniciating a make out session,
---
Hey guys~~ I really hope you like this reaction. I wanted to upload it before, but Tumblr was like "Aish, leave me alone I'm gonna delete everything" so I had to start again -.- However, It's up now~~
XOXO Admin Isi