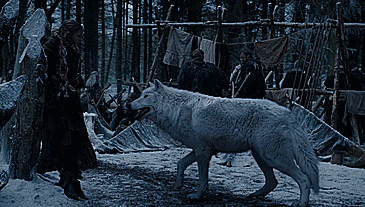 Jon x Reader
When Jon first started sending Ghost to follow you it had almost been sweet, the tiny albino puppy growling at anyone who dared approached you in an unsavoury manner, however this continued until his ears were level with your shoulders.
You could never get Jon to make the Dire-wolf to leave you alone, he'd always mumble something about not controlling him all the time, which meant you had to put up with the giant protector.
"Hello Ghost." You hummed when you felt the familiar snout nuzzle into your hand. He made a low whine in response and followed you as you collected baskets of food and jugs of wine to take to the main hall.
With Ghost leading the way to the Winterfell halls people scattered to get out of your way. Once you reached the hall you set down your heavy load, handing wine off to the handmaidens that were waiting for you.
"What took you so bloody long?" One of the cooks asked as you set down the last basket of food. "Keep that giant beast out of here" She hissed once she looked up and saw your usual companion.