Collect Call Part Two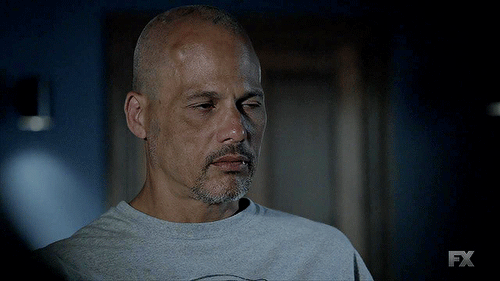 Part One Part Three (coming)
Your back slid down the wall and you clutched the phone tightly to your ear.
The line was silent and your house was quiet except for the sound of your heart beating through your chest.
"(Y/n)" Happy whispered and you stifled a sob.
A tear rolled silently down your cheek and you covered your mouth.
Why was he calling you? Now, after all these years of nothing. And why was he in prison?
"Please, pumpkin, talk to me." His voice was low but with each word he spoke you felt your heart re opening old wounds. Scars that had never quite finished healing.
"Happy," You whispered as another tear slid down your cheek.
On the other end of the line Happy ran his hand over his face.
He didn't even know what to say. It had been years since you'd spoke and he had doubt that you'd even listen to him.
Things hadn't exactly been good between you and he couldn't even remember the last time you had talked.
Happy rubbed his eyes and wondered if he had made a mistake in calling you. You were probably in bed with your husband in your fancy house or something.
But lately he couldn't shake the thought of you. Every time he closed his eyes he saw you. His dreams were full of bittersweet memories and he just had to speak to you.
"How are you?" He asked quietly.
Something inside you snapped and rage filled your bones.
"How am I?" You seethed. Poison was on your tongue and all the years of hurt came seeping into you.
"Are you fucking kidding me, Lowman?! How am I?"
"Pumpkin, I-"
"Dont call me that." You snapped.
Happy sighed and rubbed his face again.
"You really wanna know how I am, Happy?" You seethed.
"I have nothing, Happy. You left me. When I finally got over you I got married and he died. He died and I was pregnant and I was too fucked up to take care of myself. I lost my husband and my baby, Happy. And you wanna know the worse part? When he died I was so relieved that it wasn't you. My husband fucking died and all I could think of is how glad I was that it wasn't you lying in that fucking coffin."
You fell silent and breathed heavily as tears rolled down your cheeks, holding the phone tightly to your ear.
Happy was frozen in place. He didn't even know that you had gotten married, let alone been widowed.
His heart was heavy with guilt.
"(y/n) Im so sorry." He whispered into the phone.
You scoffed.
"Why did you call me, Happy?"
"I miss you. I wanted to hear your voice. I want you in my life, (y/n)."
"Now you want me in your life?" You asked with furrowed brows.
"Ive always wanted you in my life, (y/n). Ive always wanted you." He said quietly.
"Yeah well you always wanted your club more." You bit back.
Happy sighed and rubbed at his neck.
"Youve got two minutes, inmate." The guard behind him barked.
"Look, (y/n), I don't have much time. I want to see you. I.. I want to make things right."
"Its too late, Happy. Too much shit has happened, too much time has passed." You said.
"Come and see me, please pumpkin." He pleaded.
You sighed and ran your hand through your hair.
"Ill think about it." You said and hung up the phone.
You stared at it, as all the memories of Happy flowed through you. All the pain. All the heartache.
All the laughs.
"Motherfucking Lowman." You whispered and threw the phone at the wall.
Happy hung the phone back on the hook and walked back to his cell that he shared with Juice.
His head hung low and he hoped that you would come. He knew that he had messed up. He had put his club before you. You were his best friend and he was madly in love with you. But you wanted to see the world. You were a bird with your wings spread wide and he knew he wouldn't be able to hold you down. He had too much anger in pain in his heart. He wanted revenge on the men that had hurt his mother. He wasn't born to travel the world. He didn't care about seeing the cities. He was born to be a killer, but the ghosts of all his sins weighed heavy on his shoulders.
Happy walked into his cell and the guard shut it behind him.
Juice lifted his head.
"Whered you go?" Juice asked curiously.
"I had to use the phone." Happy replied and sat on his bed, staring at the cold hard ceiling.
Juice frowned. "But you don't talk?"
Happy ignored him as he lost himself in the memory of you.
Flashback.
The sun glistened on the wet rocks and the sound of the water trickling through the rocks was peaceful.
Laughter interrupted the peacefulness and you turned to Happy.
He grinned at you as you laughed, the sun light illuminating your features.
You passed him the joint and looked at the river. It was your favourite spot to get high with Happy.
"Hey (y/n)!" A voice called and you both turned.
It was Josh from school and you rolled your eyes as you looked at him and his friends.
"Wanna go to the movies with me?" He called across the field.
You laughed loudly.
"Id rather die!" You yelled back and raised your middle finger at him.
His friends laughed and you turned your head as they walked away.
Happy passed you the joint and you lifted it to your lips.
"Pumpkin?" Happy asked quietly.
You looked at him and arched an eyebrow.
"How come you never go out with any of them? They're always asking you." Happy said.
You blew out the smoke and laughed.
"Because they're boys, Happy. I need a man." You said and rolled your eyes.
Happy laughed and watched you.
You both fell silent as you thought about what you had actually wanted to say. You had wanted to tell him it was because they aren't him. But he was just your best friend.
Happy watched the river flow and thought about what he had wanted to hear. He wanted to hear you say it was because they weren't him. But he was just your best friend.
You wound your window down as you drove and took a drag of your cigarette.
The radio was loud and you tried to drown out your thoughts, but there was a limit to how loud your car radio would go and your thoughts ran vividly through your mind.
You pulled into the parking lot and parked your car, staring at the building as you shut off the engine.
Stockton State Penitentiary.
You sighed and threw your cigarette out the window and wound it up. You pulled the rear view mirror to your face and looked at your reflection.
You hadn't seen Happy in years and you certainly weren't the perky teenager he remembered.
You had winged your eye liner and coated your lashes with mascara but your fears still lingered in your eyes.
You sighed and got out of the car.
You weren't sure what you were supposed to wear to a prison visit and you didn't want to overdress. So you wore your black jeans with your white shirt.
The sound of your heels clacking against the pavement rung through your erases you entered the building.
An older man with tired eyes sat behind the glass barrier and you approached his desk.
"Im here to visit someone." You said nervously.'He ran his eyes over you.
"First time?" He asked and you nodded.
"Whats the name of the prisoner?"
"Happy Lowman." You answered.
"Thankyou." You nodded.
You filled out the paperwork and grabbed a 'visitor' sticker off the roll before walking into the room.
You picked a table in the far corner and you sat facing the entrance.
You lifted your hand and chewed at your finger nails nervously as you watched the clock.
Two and a half minutes later a man walked in.
Your heart almost beat out of your chest as you eyed Happy Lowman.
The years had definitely been kind to him.
His body was sculpted and covered in tattoos, well what you could see of his body.
His eyes were dark and cold and you wondered what he had happened to him in his life.
Danger emitted from is body and he moved into the room, his dark eyes scanning the tables as he looked for you.
Finally his eyes landed on you and he stopped in his tracks.
Your face was even more beautiful than he remembered. Your eyes sparkled brighter than the sun yet were filled with such intensity. You seemed to carry all your emotions in your eyes and he had always been able to read you like a book.
He knew you were nervous by the way you bit your nails and glanced at the clock.
He walked forwards slowly and your eyes met his.
He slid into the seat opposite you and you both stared at each other.
You cleared your throat nervously. "Hey Hap."