GOM + Kagami being there for You
This is something I really need and I hope you will like it.
---
Kuroko Tetsuya
''I'm sure she didn't mean it.'' He stated in a serious voice, gently massaging your back with his left hand.

''Oh she did, she meant it. She had spat these words with such venom that I almost died there.'' You sobbed into his arm, getting more hysterical as the seconds passed by. ''We don't even see each other that much. What can't she be a little nicer?''

''S/o-'' Kuroko called your name and your head immediately perked to look at him in the eyes.''-your mother has been alone for a very long time, she doesn't know how to deal with her almost adult daughter. I'm not trying to excuse her behaviour, because what she did was plainly wrong, I'm just trying to show you that her words don't describe who you are at all. It's just some nonsense she says to make herself feel better.'' He stroked your head affectionately at which your heart melted, leaving behind the heaviness you carried after meeting your mum earlier that day. ''It's not good, but you can't change it. There's no need to cry over it, when you have so many people thinking you are amazing. Including me, of course.'' Your boyfriend pecked your lips and your foreheads touched, staying still.

''Wow Tetsu, I wasn't aware you could talk so much.'' You laughed, earning unamused glare from him and a light punch in the gut.

''You are an ungrateful brat sometimes, I swear.''

Kagami Taiga
''Taiga, the light of my life, you don't have to stay here with me and rot, you know?''

''Please, you would die without me here.'' And with that he put the thermometer in your mouth, making you unable to speak, however, when he finally took it out, you started arguing once again.
''I'm really okay, you didn't have to leave practice for me. It's very unprofessional.'' He raised an eyebrow at you, not taking your stupid excuses for a reason to just get up and go home. You both stared at each other for what felt like a minute, before you eventually gave up. ''And I feel like I'm using you, okay - you got me.'' You rolled your eyes and rolled onto your other side to avoid his shocked expression. It's not like you didn't want him to be here, it's just that he could do so many funnier things right now, which didn't contain cleaning someone's house and jumping around a person who can barely lift a finger.
''You are sick - me taking care of you has nothing to do with using anybody. I'm doing what I want and this is what I want. Now face me, because it's time for your pills.'' You groaned loudly at his statement and he laughed upon seeing your pouting face. ''See? It wasn't so hard.'' He praised after you swallowed the medicine and chuckled once again when you shot him a very nasty glare. ''Now I'm going to make some dinner and we can watch a movie or something.''
Your redhead boyfriend got up and started walking towards the kitchen, when you tiredly moved to catch his sleeve in your fingers. He turned to you quickly, asking if something was wrong and you just shook your head.
''Everything is fine, it's just — thank you Taiga, seriously.'' You didn't dare to watch his reaction, but somewhere deep inside you knew, he was very happy right then.

''You are welcome, s/o.''

Aomine Daiki
''Okay, what the fuck did he do again?''

''Nothing really.'' You replied, wiping already cold tears with the sleeve of your blouse from your cheeks. ''It was my fault, anyway.''

''Your fault?'' He questioned angrily, swallowing all the frustration he had in him. He didn't want you to experience someone's anger once again. ''Him being a jealous prick for no reason is your fault? Don't make me laugh.'' You flinched at his harsh words, and he immediately regretted uttering them. So much for making you feel better.

''I shouldn't have met up with your team behind his back - I just really wanted to see you! But you know how he is.'' You cried once more, cringing at how pathetic you must have looked right now.

''Yeah, I know that he goes around flirting with everything that moves and you can't even hang out with your friends. That's ridiculous.'' His brain started creating very vivid images of him killing your boyfriend in many interesting ways, but then the realisation of the meaning of his words hit him. You weren't aware of his disloyalty towards you and he didn't mean to just scream this information at you. His eyes went back to yours and he noticed how they shined with fresh tears in them. He wanted to call it a very beautiful sight, but it wasn't the time nor the place for it. ''Shit, I'm sorry - I didn't mea–''
''It's okay Daiki, I suspected something, I just needed a valid proof. Although, I have been thinking about breaking up with him anyway, he was slowly getting violent and it's not something I want to be around any longer.'' Your body was trembling a little, but the real war was happening inside Aomine's mind, who, upon hearing that some low life wanted to harm you, was ready to slaughter the guy's entire family just to make you safe. ''Thank you, I realyy appreciate your support.''

''Everything for you, s/o.'' It really wasn't a good time for his confession, but once you healed, he would make you the happiest person in the world.

Kise Ryouta
''S/o-chi, you look very out of character, did something happen?'' His question didn't particularly surprised you, because you seriously looked different than usual. That day was relatively hot, enough to wear some shorts along with a short-sleeved shirt, but you against your normal outfit decided to wear a hoodie with trousers. Even your mood was worse than ever, your grumpy face only confirmed it.

Kise was extremely worried about you and was scared that someone may have done bad things to you. He was intensively staring at your blank face, awaiting an answer that took too long to form in your mind and you were just observing him with saddened eyes. ''Will you tell me s/o-cchi?''
You sighed, suddenly wearing an expression of discomfort, which twisted into embarrassement very quickly. ''Ryouta, do I look fat to you?'' This question came out as a whisper, but he heard it almost too correctly. Millions of imagines started haunting his memory, especially the ones with him constantly worrying about his weight as a model and an athlete.
''No, s/o-cchi. Did someone tell you that?'' He asked, concerned and ready to fight.

''Not exactly.'' You stopped your words from flowing out of your mouth to take a deep, relaxing breath. ''I just overheard some of my classmates conversation and, you know, they weren't saying nice things about me. That's it. Not a big deal.'' You dismissed your problem, obviously trying to drop the topic, but Kise was having none of it.

''It is a big deal, because their words affect you and they shouldn't. Look at me, I'm a model and people still mock me behind my back and say really disgusting things. The society will never be happy and it's their loss. You don't need to live like them and waste your life on hatred. Be happy, show them who is the boss.'' Both of his hands were on your shoulders as you looked at yourselves. He was clearly determined and you just speechless. And then in the simple blink of the eye you burst into tears, asking him to go home with you so you could change into something more comfortable.

''Sure, lovely. Maybe we could hit a beach on the weekend, what do you think?''

''Gladly.'' You aswered with no hint of saddnes on your flushed face.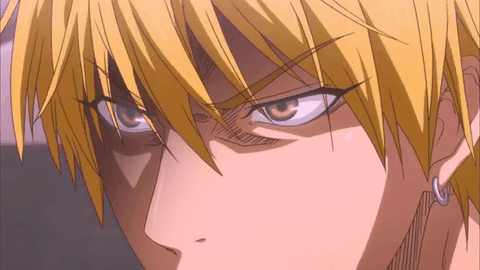 Midorima Shintarou
Midorima wasn't subtle, but easy-going. If he didn't think his head would explode, he would ask you what's wrong a long time ago. However, your moping was getting slightly worse with each day and it made him think that the situation was more serious than he previously predicted. He tried to talk to you about it for hours, but once he bit his tongue, the second time he almost walked into the wall and basically - he was scared for his life. But he also loved you dearly, so there was no going back this time. He would do it, he really would.
''What's wrong with you? You looked like somebody had died, nanodayo.'' At least he asked, okay? No one was talking about being nice and shit.

''Nice as always Shin.'' You laughed, without a humour and came back to doing your math homework.

''I didn't mean it like that. I just—worry.'' The last part was uttered so quickly and quietly as if he didn't want you to hear it at all, but you did and it shocked you.
''Mn — it's nothing, really. I think I'm just being paranoid and all.'' You smiled tiredly, putting your pen down and he turned his face to you, to listen to your confession even better. ''My parents are behaving kinda weird, something's going on and all I've been thinking about it is them getting divorced. I know it's not my choice, but theirs, however, it makes me anxious. Sorry, if it's annoying.'' He focused on your words, processing them and trying to create a perfect response, which would be honest, but also helpful.

''I know it may be scary now, but I swear that even it they separate their ways, they would still love you the same.'' He grasped your fingers lightly in his, face going red. ''As I do, nanodayo.''

You looked up at his words, blushing almost as much as him. ''I love you, too Shin. Thank you.''
''It's nothing, nanodayo.'' He replied and pushed his glasses a liittle higher on his nose. His hand never leaving yours.

Akashi Seijurou
''Ugh, I'm so frustrated Seijurou, I don't think I can keep this up.'' You said at the verge of the tears, pushing math book away from your body. Akashi looked blankly at you, not knowinng how to motivate you to stay focused for a little more time.

''Let's try again, I will explain better, alright?'' He caressed your cheek, desperately trying to stop you from crying. It was the last thing he wanted to see you doing. Even though, he didn't show it that much he really wanted you to be content. He was clever and on top of the class, but he could admit that math could be really hard. He knew that it was your worst subject and seeing you try so much and then failing was heartbreaking. So he decided to fight with you, teaching you every chance he got. You praised him for it all the time, despite his scary appearance he was really patient with you. You couldn't help, but love him more for it.

''Okay, okay, but it's so terrible. I feel like the worst person on the Earth! How did I even get to Rakuzan? I'm the dumbest person I know!'' You cried, your words slightly muffled by your palm. Akashi couldn't see your eyes, but he knew they were probably red with a dark bags under them. You were really hard-working, hee admired it in you.
''You are not dumb, you just need a little practice, love. Nobody was born a genius.''

''You were.''

''I was not, I was just pushed into being the best. I'm glad that you weren't.'' He stated, giving you the most lovestruck look he could pull out, just because you couldn't see it. It may sound stupid, but he was scared you would find out how important you were to him. How you mattered.

''I'm sorry Sei, I didn't mean to bring up bad memories.'' You replied guiltily, throwing your arms over his neck in an attempt to hug him. It came out a little messy, but he appreciated it anyway.

''I'm not angry, but you can still repay me by not giving up, okay?'' You sniffed, but didn't dare to protest and opened a book once again. ''If you promise me that you will work hard I can give you a very pleasurable reward later, huh?'' He whispered huskily in your ear, making you red all over your face as you nodded like a crazy.
Maybe he could motivate you.
Murasakibara Atsushi
''Why are you crying, s/o-chin?''

''Oh Atsushi, I didn't hear you coming.'' You replied, smilling through your tears. Trying to hide the fact that you were obviously upset.

''Why are you crying?'' He asked as if he didn't hear your previous statement, not liking being ignored.

''No reason, seriously.'' You asnwered this time, but it only left his unsatisfied, wanting to know more.

''That's a lie, s/o-chin. Talk to me.'' He whined like a child and sat next to you on the floor, in front of the window, which showed you empty streets and a clear, blue sky, which perfectly imitated how you were feeling. Empty.

''Sometimes people are sad, just like that, there's no real reason, but it doesn't mean that it's not important. I just feel a little down today, you can leave if you want. I don't want to burden you.'' You knew your boyfriend very well. He was bright and could be very clever when he wanted to, but there were things he just wasn't aware of and simply didn't care.

''You don't burden me. I want to stay and make you feel better somehow.'' Murasakibara replied, his body a little closer to yours, so you could smell his candy scent, which was more comforting that you could ever imagine.

''It's not that easy, Atsu.'' Your sudden and quiet laugh, sounded more depressing than you wanted it to, but it was just so hard to be happy, when everything just felt so wrong.

''Okay, but let me stay, alright? We can just be here for each other, do nothing and cuddle.'' He stated and immediately enveloped you in his long arms after seeing you nod to his proposition. ''I will stay here until you are happy again - and if you never are, I will still be here.'' He kissed the skin of your neck, squeezing you tightly in his embrace, shielding you from the world. And in that exact moment you knew that eventually, everything will be just fine.