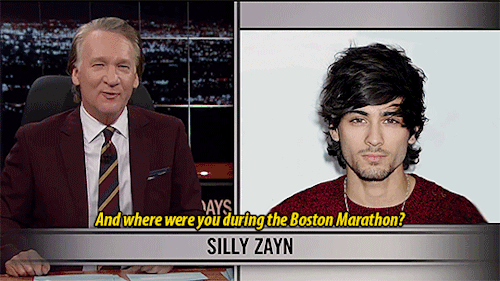 So, this happened. Bill Maher, renowned liberal commentator and "realist" who believes Islam is a religion of aggression and violence, took a jab at former One Direction member Zayn Malik during an episode of his HBO show. Look, Zayn is a 22-year-old British-Pakistani from a Muslim family and what Maher made was a tired, low joke that put a hardworking brown musician's face next to that of a known terrorist who just happens to kind of look like Zayn. It's appalling. It's offensive. It's disgusting.

Shame on you, Bill Maher. Shame on you, HBO. Shame on the producers and writers who came up with this joke. Shame on the audience members who clapped along in agreement. By the way, nice try to make it seem like Maher had no idea how to tell the One Direction boys apart in an attempt to make it seem like this wasn't about race or religion.

Maher is a vocal atheist and has an obvious vendetta against Islam. As an agnostic Muslim, a liberal, and a Pakistani, I have no problems with that. I think he sometimes has a point but often comes off as a bigot when he's trying to make it, and that may be because he is one.

It's important that we make noise. Less than two months ago, 23-year-old med student Deah Barakat, his wife Yusor (21) and her sister Razan were murdered in their home by an atheist neighbor. Their murder has highlighted growing xenophobia in America that the media has been trying to sweep under the rug. That same month, a 57-year-old Indian man was beaten and paralyzed by police in Alabama while taking a stroll around the neighborhood. But we didn't hear about these people as much as we should have; these stories spun out of news cycles and have been forgotten. If the races and religions were reversed, I can assure you, this would not have been the case.

What Bill Maher is doing is dangerous. He's perpetuating the myth that any young, brown-skinned, dark-haired, dark-eyed man or woman with ties to the Indian subcontinent is worthy of suspicion. Having lived in the US myself, it's a special treat when you're led to a special room at the airport on your arrival, for "further registration," to find that all other occupants of the room are people with skin of the same/darker color as/than yours.

We have brown skin, and we have dreams. We are doctors, engineers, taxi drivers, musicians, lawyers, bankers, and so much more. We are human beings. We are here to do good. Stop demonizing us. Stop holding us responsible for the crimes we didn't commit. STOP CALLING US TERRORISTS, YOU RACIST PRICK.

And for the record, Maher: on April 15, 2013, Zayn Malik was in the UK on tour with One Direction.